Dispositif et rapport aux contraintes : propositions autour de la notion d'injonction au projet. Le cas d'étudiants « décrochés » de l'université
This article is about a research leaded by Lisec laboratory about an innovating training for students dropouts, who have been counseled in the elaboration of their expecting professional project. An inductive qualitative approach permit to enlighten different kind of relationship to project. The concept of project injunction can be understood from different ways. As a norm, injunction is assimilated to "having a project", though project practices are referred to training devices. The author mentions "injunction to project" for the first kind of project injunction, about unclear and undefined constraints, and "'injunction to project" concerning training about project.
Un dispositif conçu pour les étudiants « décrochés » de l'université, centré sur l'accompagnement au projet professionnel, a constitué le terrain privilégié d'une recherche menée par le Lisec. Une analyse qualitative de type inductif des entretiens réalisés avec les usagers de la formation, met en évidence des formes de rapports particuliers au projet. A l'injonction abordée comme norme, comme nécessité d'« avoir un projet » peuvent être opposées les pratiques de projet abordées dans le cadre d'un accompagnement. L'auteur propose de circonscrire l » 'injonction au projet » aux dispositifs encadrant des pratiques de projet, et de mobiliser la notion d'« injonction à projet » s'agissant des contraintes diffuses et peu formalisées de la norme projet.
Fichier principal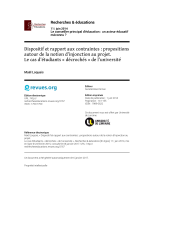 rechercheseducations-2167.pdf (254.61 Ko)
Télécharger le fichier
Origin : Publisher files allowed on an open archive