« Doing nothing » : Robert Burns et l'ambiguïté de la skholê
In "The Vision", Robert Burns dramatises a figure of the poet brooding over the hopelessness of his poetical achievements, seen as a pure waste of time in relation to other more financially profitable activities. But Robert Burns as a poet is fully aware that it is only during his spare time that he can write his poems and songs. Why does he condemn leisure so fiercely in many of his poems? The reason is that he is in two minds about it: in peasant circles, leisure is tantamount to idleness, and idleness is viewed as the vice of the upper society. But it is also in that period that the conception of leisure undergoes a dramatic evolution in a time of growing industrial development. Burns foresees a possible "serious leisure" (which Bourdieu, after Plato, calls "skholê"), making way for creation and recreation.
Le poème de Robert Burns « The Vision » présente une figure du poète ruminant sur la vanité de ses réalisations poétiques, pur temps perdu au regard d'activités plus immédiatement rentables. Robert Burns, quant à lui, a bien conscience que c'est ce temps libre qui lui permet de composer poèmes et chansons. D'où vient alors cette condamnation virulente du temps libre, exprimée dans de nombreux poèmes ? C'est que Robert Burns entretient un rapport ambigu avec celui-ci : dans les milieux populaires, auxquels Burns entend appartenir, le temps libre est un temps oisif ; ou plus précisément, l'oisiveté est le vice des classes aisées. Mais dans le même temps, les rapports de la société au loisir se modifient au gré d'une industrialisation croissante. C'est pourquoi Burns entrevoit la possibilité d'un « loisir studieux » (que Pierre Bourdieu, à la suite de Platon, nomme « skholê »), propice à la création poétique et aux réjouissances populaires.
Fichier principal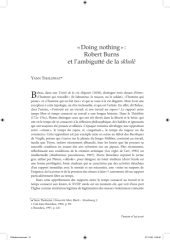 2006 Robert_Burns and skholê.pdf (617.15 Ko)
Télécharger le fichier
Origin : Publisher files allowed on an open archive