Dans la peau du loup. Une lecture sémiotique d'À partir de l'histoire d'une névrose infantile
This contribution proposes a close reading of a famous clinical case by Freud. We have two main goals: to highlight the usefulness of semiotic tools for the psychoanalytic practice and to identify some opportunities for interdisciplinary discussion about the expression of subjectivity in texts. Our challenge is to understand the author of the freudian text, its communicative intention and what remains unsaid. Above all, we aim to show that Freud « hides by showing »: his narrator tells a different story from that which we can read between the lines. Presented as the story of a burdensome recovery, the Wolfman case may actually be the tale of a therapeutic defeat.
Cette contribution propose de relire un célèbre cas clinique freudien, celui de l'Homme aux loups, avec deux objectifs principaux : mettre en évidence l'apport des outils forgés par les sciences du langage pour la pratique et la théorie psychanalytique; identifier les opportunités de dialogue interdisciplinaire pour l'analyse de l'expression de la subjectivité dans les textes. Notre défi consiste à rendre compte de l'auteur du texte freudien, de son intention communicative et de ses non-dits. Nous mettons notamment en évidence le fait que Freud « montre en cachant » : son narrateur raconte une histoire différente de celle que l'on peut lire en filigrane dans le texte. Présenté sous forme de rapport traitant d'une guérison durement conquise, le cas de « l'homme aux loups » est peut-être le récit d'une défaite thérapeutique.
Fichier principal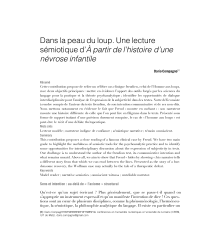 PCLI_044_0034.pdf (1.33 Mo)
Télécharger le fichier
Origin : Files produced by the author(s)