Développement de systèmes hors-sol innovants pour jardins urbains : projet national prod'urban
Innovative cropping systems represent a solution to the current problems of over-use of fossil water resources and inputs in the horticultural field. These systems also answer to the increasing demand of crop production in urban areas by individuals and professionals. During our study, we have tested various aeroponics culturs and we compare them to conventional production system. For this, we selected different ranges of plants: aromatic, floral and fruit to answer to the different challenges of food and ornamental productions. The results of our study have shown that classical culture offer better performance for the height, the final biomass and the quality of plants. However, the results of vegetative cover in innovative culture systems (vertical crops adapted to limited urban spaces) showed very good results after a vegetative development in aeroponics. By improving the aeroponics system and managing to better control the growth parameters, it would be possible to consider culture in aeroponics as a solution to allow more sustainable horticultural and food production in urban zones.
Les systèmes de cultures innovants représentent une solution aux problèmes actuels de surutilisations des ressources fossiles en eau et en intrants dans le domaine horticole. Ces systèmes répondent aussi à la demande de plus en plus croissante de production végétale en milieu urbain par des particuliers et des professionnels. Durant notre étude, nous avons mis en place différents essais en aéroponie et nous les avons comparés à un système de production classique. Pour cela, nous avons sélectionné différentes gammes de plantes : aromatiques, fleuries et fruitières pour répondre aux différents enjeux de productions alimentaires et ornementales. Les résultats de notre étude ont montré que la culture classique donne de meilleures performances au niveau de la hauteur, de la biomasse finale et de la qualité des plantes. Cependant, les résultats de reprise végétative en système de culture innovant (cultures verticales adaptées à des espaces urbains limités) ont montré de très bons résultats après un développement végétatif en aéroponie. En améliorant le système en aéroponie et en réussissant à mieux contrôler les paramètres de croissance, il serait alors possible d'envisager la culture en aéroponie comme une solution pour permettre une production horticole et alimentaire plus durable en ville.
Fichier principal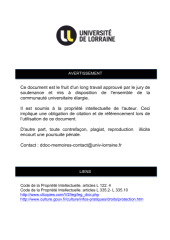 BUS_M_2016_CHERRARED_ABDELLATIF.pdf (1.85 Mo)
Télécharger le fichier
Origin : Files produced by the author(s)