Etudes de cas : évaluation de l'évolution de la marche suite à un programme d'activités physiques adaptées chez deux enfants présentant un polyhandicap
The multiple disabilities is expressed in different ways and causes different symptoms. Locomotor disorders are commonly found in this population. They have a negative impact on the independence and quality of life by limiting the activities of daily life and social interactions. Walking, when possible, is often initiated late. This type of locomotion is a complex learning and trunk control stability difficulties found in children with multiple disabilities disrupt the balance of the body especially in dynamic activities such as walking. Simultaneously, there is unrest marked in the sagittal plane, particularly the laying of the foot, which could be explained by an adaptation of the individual to slow the advance of the body forward while moving. A program Adapted Physical Activities coupled with an equestrian initiation was proposed two children with multiple disabilities in order to study the evolution of their walk. The intervention has helped to develop the autonomy of these children when walking influencing spatiotemporal gait parameters as well as static and dynamic balance and trunk control stability.
Le polyhandicap s'exprime de diverse manière et engendre différents symptômes. Les troubles de la locomotion sont fréquemment retrouvés dans cette population. Ils ont un impact négatif sur l'autonomie et la qualité de vie en limitant les activités de la vie quotidienne ainsi que les interactions sociales. La marche, lorsqu'elle est possible, est souvent initiée tardivement. Ce type de locomotion est un apprentissage complexe et les difficultés de contrôle de la stabilité du tronc retrouvées chez les enfants présentant un polyhandicap perturbent l'équilibre du corps notamment dans les activités dynamiques telle que la marche. Simultanément, on constate des troubles marqués dans le plan sagittal, particulièrement à la pose du pied, ce qui pourrait s'expliquer par une adaptation de l'individu afin de freiner l'avancée du corps vers l'avant lors du déplacement. Un programme d'Activités Physiques Adaptées couplés à une initiation équestre a été proposé à deux enfants présentant un polyhandicap afin d'étudier l'évolution de leur marche. L'intervention a contribué à développer l'autonomie de ces enfants lors de la marche en influençant les paramètres spatio-temporels de la marche ainsi que l'équilibre statique et dynamique et le contrôle de la stabilité du tronc.
Fichier principal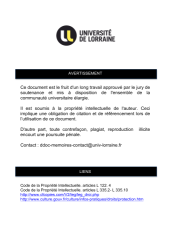 BUS_M_2016_MANGIN_MARINA.pdf (2.03 Mo)
Télécharger le fichier
Origin : Files produced by the author(s)