Etude de la dynamique de bactéries pathogènes lors du stockage de produits résiduaires organiques issus de la méthanisation : influence de déterminants biotiques (activité microbienne) et de la biodisponibilité de la matière organique
In a current context of saving energy and waste management, anaerobic digestion is one way for treating organic wastes. This process produces biogas (methane and carbon dioxyde) and digestate. Digestate, wich contained fertilizer components appeared to be an effective fertilizer for agriculture. The sanitation of digestate is very important to limit environnemental and health risks related to pathogenic microorganisms. Anaerobic digestion process allowed to reduce pathogenic microorganism infection but which could re-appear during storage. This study aims at investigating biotic (microbial activity) or abiotic (organic matter content) factors that influence the survival of two pathogenic bacteria (Listeria and Salmonella). Those results will provide key informations allowing a better control on survival of pathogens and to lead to favorables storage conditions for the reduction of health risks.
Dans un contexte actuel d'économie d'énergie et de valorisation des déchets, le procédé de méthanisation apparait comme une alternative très intéressante pour le traitement des déchets. Il permet de produire du biogaz (méthane et dioxyde de carbone) ainsi qu'un digestat. Ce dernier, riche en éléments fertilisants, peut être utilisé comme amendement organique lors de l'épandage au champs. L'hygiénisation du digestat est très importante afin d'éviter un risque environnemental ou sanitaire lié à une contamination par des microorganismes pathogènes. Le procédé de méthanisation permet de réduire les concentrations en pathogènes mais un redéveloppement ou une recontamination peuvent être observés au cours du stockage. Le but de cette étude sera de regarder l'influence de différents facteurs biotiques (activité microbienne) et abiotiques (devenir de la matière organique) sur la dynamique de survie de 2 bactéries pathogènes (Listeria et Salmonella). Les résultats obtenus apporteront des informations clés permettant de mieux contrôler la survie des pathogènes et ainsi assurer des conditions de stockage optimales.
Fichier principal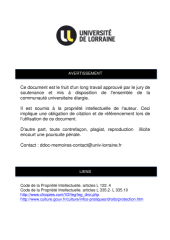 BUS_M_2015_CUNY_ANAIS.pdf (2.01 Mo)
Télécharger le fichier
Origin : Files produced by the author(s)