Vulnérabilité et adaptation des petits maraîchers : zone périurbaine de Buenos Aires, Argentine
In rural urban interface in Buenos Aires, small market gardening is exposed to unstable sector environment and coexists with other agriculture model as the agribusiness agriculture. So small market gardening is threatened but small farmers persist. We propose to study small farmer's vulnerability in this unstable environment. Our theoretical background defines vulnerability as a function of three dimensions (exposure, sensitivities and adaptive capacities); we analyse small farmers' exposure and sensitivity when realizing production activities and his capacity to face threats. We have a comprehensive position when interviewing farmers. We have studied 8 farmers with different characteristics we suppose affect in different way vulnerability. Life trajectories analysis show heterogeneous vulnerability profile among sample. Some farmers are more vulnerable than others: Bolivian immigrants because they are tenant. Argentine farmers are proprietary and have better habitat. Decisive exposure factors for vulnerability are immigrant illegality, commercialisation with intermediaries, poor habitat, work hardness, labour deficiency, weak support of public institutions and instability of land tenancy. Besides difficult situations, farmers can take action and have an adaptation capacity in order to reduce their sensitivity. A chance of realizing a PhD will allow us a better understanding of all processes of adaptation and vulnerability in order to think about more relevant policies to improve small farmers' capacities.
Dans les espaces périurbains de Buenos Aires, le maraîchage dans ses formes familiales est exposé à l'environnement particulièrement instable du secteur et évolue au sein d'espaces de production dominés par des modèles de développement l'excluant a priori. Afin d'explorer les dynamiques du maintien du petit maraîcher dans ce contexte, nous nous proposons d'étudier sa vulnérabilité. Nos choix théoriques nous invitent alors à analyser l'exposition et la sensibilité de celui-ci dans la réalisation de son activité maraîchère ainsi que sa capacité et celle de son système à faire face aux menaces. Nous avons adopté pour une posture compréhensive qui permet d'appréhender la vulnérabilité perçue par l'acteur ; 8 études de cas auprès de producteurs aux caractéristiques différentes et supposées définir un rapport différent des agriculteurs à la vulnérabilité ont été menées. L'analyse des trajectoires de vie des 8 cas dévoile une hétérogénéité des profils de vulnérabilité et définit des situations de vulnérabilité supérieure pour certains individus ; notamment pour les immigrants boliviens qui ne sont pas propriétaires de la terre contrairement aux producteurs argentins. Certains facteurs d'exposition sont donc déterminants des situations de vulnérabilité : illégalité de l'immigrant, précarité d'accès au foncier, commercialisation confiée à des intermédiaires, précarité de l'habitat, pénibilité du travail, insuffisance de la main d'oeuvre familiale, faiblesse des soutiens publics. Mais le producteur agit sur son environnement en développant une série de réponses adaptatives et parvient, dans certains cas, à réduire la sensibilité de son système. Une compréhension affinée de ces processus, notamment par une possible poursuite de l'étude en doctorat, permettra de mieux penser la construction des politiques publiques pour le soutien des acteurs de cette petite agriculture.
Fichier principal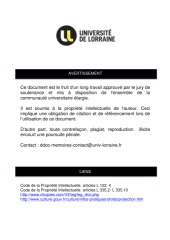 BUS_M_2013_FAURE_CLAIRE.pdf (4.35 Mo)
Télécharger le fichier
Origin : Files produced by the author(s)