Etude Comparative EtherCAT vs Bus Capteurs
ZODIAC DATA SYSTEMS develop a new fieldbus who can be used to cover the new telemetry requirements in the upper stage of launcher. They want to create a fieldbus implementing a digital communication link and a power distribution scheme on the same cabling infrastructure. The sensor bus system has some resemblances with a protocol called EtherCAT. Then the aim of the project is to compare the both systems. The mission comprises of two main parts: The first part is a comparative study. The aim of this part is to compare the performance, the simplicity of implementation, the reliability and the complexity of elements of both systems. Once the best features chosen, another study must be made on the impacts which they could have on the sensor bus system architecture. The second part is a comparative study of 3 synchronization protocols. The first is the protocol used in the sensor bus system, the second is the Distributed Clock protocol used in EtherCAT and the third is the precision time protocol of the IEEE standard.
Dans le cadre de ses activités Etudes Amonts, ZODIAC DATA SYSTEMS développe un nouveau bus de communication destiné à des applications de télémesures Lanceurs. L'étude conduite par ZDS a pour objet de définir un « Bus Capteurs » comprenant le protocole de communication, de mise en configuration et la distribution d'énergie sur un seul câble. Il s'avère que ce Bus Capteurs ait de grands points communs avec un protocole nommé EtherCAT. Ainsi le stage a comme objectif une étude comparative de la solution Bus Capteurs vis-à-vis du principe d'EtherCAT qui est en cours de normalisation. La mission se décompose principalement en deux parties : La première est une étude comparative à proprement parlé, dans laquelle je devais comparer les performances, la simplicité de mise en oeuvre, la versatilité, la fiabilité ainsi que de la complexité des éléments des deux systèmes. Si cette étude s'avère concluante, une solution de portage d'EtherCAT sur l'infrastructure Bus Capteurs de ZDS pourrait être envisagée avec une étude de l'impact sur celle-ci. La seconde partie est quant à elle une étude comparative des protocoles de synchronisation EtherCAT et IEE1588 dans laquelle la description des deux protocoles sera faite ainsi que l'impact qu'ils pourraient avoir sur l'architecture du système Bus Capteurs si un des deux protocoles est porté sur celle-ci.
Fichier principal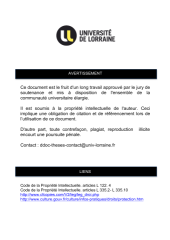 SCDSCI_M_2011_WASILEWSKI_YANNICK.pdf (2.09 Mo)
Télécharger le fichier
Origin : Files produced by the author(s)