Bien-être du poulet de chair : détermination des conditions d'ambiance et des caractéristiques physico-chimiques de la litière responsables de l'apparition de dermatites de contact en Poulet de chair
Two studies were carried out. 3888 broilers chickens were reared until 35 or 42 days old. 600 animals were observed regularly for dermatitis during rearing period. At slaughter, lesions of 1200 broilers were scored. Two environments (temperature and ventilation) and two diets were tested to obtain different characteristics of litter. The correlations between these measured characteristics and the severity of dermatitis were realised. Foot pad dermatitis appeared very early in the life of chickens. On the 9th day old chicks, elongated brown scales, and sometimes ulcers, were already visible at the footpads. Hock burn and breast lesions appeared later, from 23 and 35 days, respectively. Litter was sampled at the same time as the observation of lesions. Our study underlined the huge effect of litter pH, moisture, nitrogen and temperature on the development of dermatitis. Thus, dermatitis scores were the highest when litter was acid, humid, rich in nitrogen and cold. However, in the present study, foot pad dermatitis observed at 9 days were not correlated with litter parameters studied. Some other substances could have been enclosed in the litter from the start. These substances could be responsible for the development of lesions. Moreover fast growing chickens could develop more contact dermatitis.
Deux études ont été réalisées. 3888 poulets de chair ont été élevés jusqu'à 35 ou 42 jours, parmi lesquels 600 animaux ont été observés régulièrement pour la notation des dermatites de contact jusqu'à leur abattage et 600 autres ont été abattus au dernier jour d'élevage puis observés pour ces mêmes lésions. Deux ambiances et deux aliments ont été testés afin d'obtenir des caractéristiques physico-chimiques de litière différentes et d'étudier leurs relations avec la sévérité des dermatites de contact. Les résultats montrent une apparition très précoce des pododermatites chez les poulets étudiés. En effet, dès le 9ème jour d'âge des poussins, des écailles allongées marron, et parfois même des ulcères, étaient déjà visibles au niveau des coussinets plantaires. Les brûlures des tarses et croûtes du bréchet se sont développées plus tardivement, à partir de 23 et 35 jours, respectivement. Des prélèvements de litière ont été effectués en parallèle de l'observation des lésions. Le pH, les teneurs en humidité et en azote et la température de la litière sont apparus comme des paramètres importants dans l'aggravation des lésions. Ainsi, les scores des dermatites étaient d'autant plus élevés que la litière était acide, humide, riche en azote et froide. Cependant, les pododermatites observées à 9 jours n'étaient corrélées à aucun paramètre physico-chimique étudié. Il semblerait donc que des substances, présentes dès le démarrage soient à l'origine de l'apparition de lésions et/ou que les jeunes poulets à croissance rapide soient davantage prédisposés au développement de dermatites de contact.
Fichier principal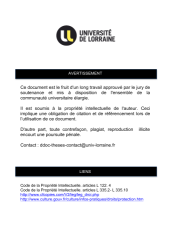 SCDSCI_M_2010_OLIVERE_PAULINE.pdf (1.53 Mo)
Télécharger le fichier
Origin : Files produced by the author(s)