Etre sage-femme échographiste en libéral
To become a midwife consists in acquiring the skills required to global pregnancy follow-up. We are trained to adaptability, both in our radiuses of action and in our modes of exercise. However, some will choose to specialize, notably in ultrasound scan. In that case, how to be trained? How is it feasible to settle down in liberal? l first presented the blue-print law. Then, l studied the practical side of this setting up according to ultrasound scan specialised midwives' testimonies who practise in liberal.
Devenir sage-femme c'est acquérir les compétences nécessaires au suivi global de la grossesse. Nous sommes formés à la polyvalence tant dans nos champs d'action que dans nos modes d'exercice. Cependant, certains choisiront de se spécialiser, notamment en échographie. Dans ce cas, comment se former? Comment est-il possible de s'installer en libéral? J'ai d'abord présenté le cadre législatif. Puis j'ai étudié le côté pratique d'après les témoignages de sages-femmes échographistes qui exercent en libéral.
Fichier principal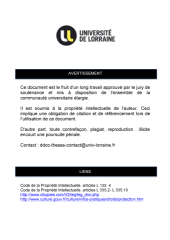 SCDMED_MESF_2007_HELVIG_ANNE_DELPHINE.pdf (739.41 Ko)
Télécharger le fichier
Origin : Files produced by the author(s)