Analysis of the Working Conditions of Temporary Workers. Explaining These Workers' Vulnerability to Occupational Accidents
Análisis de las condiciones de trabajo de los trabajadores temporales. Cómo explicar la vulnerabilidad de estos trabajadores a los accidentes laborales ?
Analyse des conditions de travail des travailleurs intérimaires. Comment expliquer la vulnérabilité des intérimaires aux accidents du travail ?
This paper analyzes the main characteristics of the working conditions of temporary workers in France. It examiiines the data from a large study conducted in 2008/2009 and financed by the Regional Labor Department of Lorraine (DRTEFP- Lorraine). This research was organized around two surveys involving temporary workers in industry and\or the building construction and civil engineering works. This article shows that temporary employees' vulnerability to occupational accidents is higher than that of companies' permanent employees. This vulnerability can be explained by relatively more difficult working conditions. Quite often, these workers must urgently adapt themselves to different, evolving work contexts
Cet article analyse les conditions de travail des intérimaires. Il s'appuie sur les résultats d'une étude réalisée en 2008/2009 et financée par la Direction Régionale du Travail de l'Emploi et de la Formation Professionnelle – Région Lorraine. Cette recherche a été organisée autour de deux travaux de terrain : une enquête par questionnaires et des entretiens semi directifs menés auprès d'intérimaires détachés dans l'industrie et/ou le BTP. Cet article montre que la vulnérabilité des intérimaires aux accidents du travail est forte comparativement aux salariés permanents des entreprises. Cette dernière s'explique par des conditions de travail relativement plus difficiles. Ces travailleurs doivent s'adapter très souvent dans l'urgence à des contextes de travail différents et évolutifs.
Fichier principal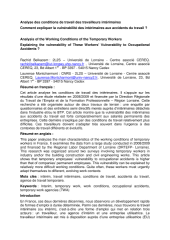 BELKACEM R, MONTCHARMONT L. PISTES, NOV 12.pdf (352.45 Ko)
Télécharger le fichier
Origin : Files produced by the author(s)