Propriétés de surface et d'adhésion de Parabacteroides distasonis
Parabacteroides distasonis is a bacterium of the gut microbiota whose beneficial roles for the host, at metabolic and immune level, suggest its importance in the core microbiome. Previous studies show a significant loss of this taxon as a result of socio-environmental or hypergravity stress applied to its host. The purpose of this study is to determine some surface and adhesion properties of this species, particularly on abiotic support and CaCo-2 intestinal cell line. Results show a moderate adhesion power on both types of support, with one strain strongly adhering on an inert support and two strains strongly adhering on gut cells. This moderate adhesion seems to be due to a moderate permeability and a low electronegativity due to the presence of a capsule and lipopolysaccharides on the surface of these bacteria. These results provide a starting point for studying the precise mechanisms of these phenomena, with the aim of preventing the loss of this species within the intestinal microbiota.
Parabacteroides distasonis est une bactérie du microbiote intestinal dont les rôles bénéfiques pour l'hôte, au niveau métabolique et immunitaire, suggèrent son importance au niveau du core microbiome. Des études montrent une perte significative de ce taxon à la suite d'un stress socio-environnemental ou hypergravitaire appliqué sur son hôte. L'objectif de cette étude est de déterminer certains propriétés de surface et d'adhésion de cette espèce, notamment sur support abiotique et sur cellules intestinales CaCo-2. Les résultats obtenus montrent un pouvoir d'adhésion modéré sur les deux types de support, avec une souche adhérant fortement sur support inerte et deux souches adhérant fortement sur cellules intestinales. Cette adhésion modérée semble être due à une perméabilité moyenne et une faible électronégativité conséquentes à la présence d'une capsule et de lipopolysaccharides à la surface de ces bactéries. Ces résultats constituent un point de départ dans l'étude des mécanismes précis de ces phénomènes, dans le but de lutter contre la perte de cette espèce au sein du microbiote intestinal.
Fichier principal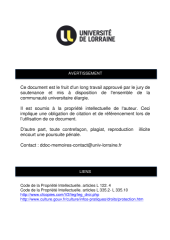 BUS_M_2019_CARLIER_THIBAULT.pdf (1.21 Mo)
Télécharger le fichier
Origin : Files produced by the author(s)