Catastrophes, risques et représentations sociales: réflexions sur les puits de causalité
The aim of this article is to compare the contributions of the sociology of risk to the study of social representations. The second approach, although intended to be multidisciplinary and multidimensional, has difficulty in integrating the dimension of the imaginary and contextual or historical factors, because it is regularly focused on the strictly methodological objective. This tendency towards reductionism causes it to lose the substance of these phenomena (risks, disasters, extraordinary events) which are symbolic, temporally and locally referred to, cultural and multi-referential. After describing the meaning and definition of the terms "disaster" and "risk", we will look at the existing relationships between the social impact of disastrous phenomena and structuralist conceptions of change in the theory of social representations. It will then be seen that the latter theoretical trend could be enriched by a reflexive and anthropological conception of catastrophic events and the proliferation of risks in contemporary societies.
Il s'agit, dans cet article, de confronter les apports de la sociologie des risques à l'étude des représentations sociales. La seconde approche, bien que se voulant pluridisciplinaire et multidimensionnelle, peine à intégrer la dimension de l'imaginaire et les facteurs contextuels ou historiques, parce qu'elle est régulièrement centrée sur l'objectif strictement méthodologique.Cette tendance au réductionnisme lui fait perdre la substance de ces phénomènes (risques, catastrophes, événements extraordinaires) qui sont symboliques, temporellement et localement référés, culturels et multiréférentiels. Après avoir décrit le sens et la définition des termes «catastrophe» et «risque», on se penchera sur les relations existantes entre l'impact social des phénomènes désastreux et les conceptions structuralistes du changement dans la théorie des représentations sociales. On constatera alors que cette dernière tendance théorique pourrait être enrichie par une conception réflexive et anthropologique des faits catastrophiques et de la prolifération des risques dans les sociétés contemporaines.
Fichier principal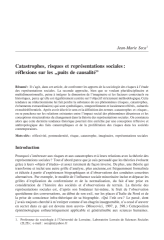 Art Psihologia Sociala 2012, 29 Seca JM Article.pdf (185.31 Ko)
Télécharger le fichier
Origin : Explicit agreement for this submission