L'obsession de la vocation chez les musicien(ne)s underground
The psychosociological approach of the alternative popular musical practices, here presented, synthetize a part of the results of detailed empirical inquiry (by the methods of the questionnaire, the interview and the participating observation) with 110 groups (approximately four hundred and ten individuals) belonging to the pop currents (rock, punk, new-wave, rap and caribbean styles), carried out in 1981-87 and 2000, whose complete statements appear in others publications (Seca, 2001a). After having described the theoretical model (acid state) from which were treated the data of observation and once indicated which is the specificity of the approach of this type of musician, one bends more particularly over the question of the place of the women in these practices, very mainly masculinized. We are leaving from the presupposition that the conflicts of feminine / male roles appear in a more explicit way in the manner which have these last ones to display or to claim a "place" in the social field of musical recognition. Some tracks of the interpretation of the ostracism, met by the female musicians and of their provocative and paradoxical behaviors, are proposed. The androgynic structure of role (valid for the two sexes in the case of artistic activity) is called like a process of completion in the artistic professionnalisation and as a « solution » to the excesses and to the possible drifts of the identity in the underground musical creative research.
L'approche psychosociologique des pratiques musicales populaires alternatives, ici présentée, synthétise une partie des résultats d'une enquête approfondie de terrain (par les méthodes du questionnaire, de l'entretien et de l'observation participante) auprès de 110 groupes (quatre cent dix individus appartenant aux courants pop rock, punk, new-wave, rap, musique antillaise), effectuée en 1981-87 et 2000, dont les énoncés complets figurent dans d'autres publications (Seca, 2001a). Après avoir décrit le modèle théorique (état acide) à partir duquel ont été traité les données d'observation et une fois indiqué quelle est la spécificité de l'approche de ce type de musicien, on se penche plus particulièrement sur la question de la place des femmes dans ces pratiques, très majoritairement masculines. On part du présupposé que les conflits de rôles féminins / masculins émergent de façon plus explicite dans la manière qu'ont ces dernières de s'afficher ou de revendiquer une « place » dans le champ social de reconnaissance musicale. Quelques pistes d'interprétation de l'ostracisme rencontré par les musiciennes et de leurs comportements provocateurs et paradoxaux sont proposées. La structure de rôle androgynique (valable pour les deux sexes dans le cas de l'activité artistique) est invoquée comme un point d'achèvement d'un parcours de professionnalisation artistique et comme une « solution » aux excès et aux dérives identitaires possibles dans la recherche créative musicale underground.
Fichier principal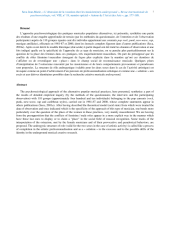 Art Seca Obsession de la vocation RipSeca.pdf (77.06 Ko)
Télécharger le fichier
Origin : Files produced by the author(s)