La métacognition au service de l'apprentissage du FLE en contexte plurilingue (États-Unis).
In the United States, a country of immigration, foreign language learning is the norm, in most institutions. Among the languages learned in this country, English figures as the official language, but there are also other European and Asian languages. In the case of FLE learning in the American context, we think that the production of narrative texts by an American learner represents a relatively complex activity similar to that experienced by a Tunisian learner.In the present work, we describe an action research that we carried out in Tunisian schools whose objective is to try to identify and analyze the difficulties related to the textual coherence in the written productions of the Tunisian students in order to understand and to explain the cognitive processes performed by learners in writing situations. This procedure allowed us to design remediation sequences based on metacognitive activities aimed at developing students' self-regulation strategies and consequently improving their scriptural performances.The results obtained allowed us to verify the impact of the practice of metacognition on the performance of novice writers. The methods we have experimented with could be avenues of research for learning foreign languages in the United States.
L'apprentissage des langues étrangères aux Etats-Unis, pays d'immigration, est de mise dans la majorité des établissements. Parmi les langues apprises dans ce pays, figurent l'anglais comme langue officielle, mais également d'autres langues européennes et asiatiques. Dans le cas de l'apprentissage du FLE dans le contexte américain, nous pensons que la production de textes narratifs par un apprenant américain représente une activité relativement complexe similaire à celle vécue par un apprenant tunisien.Dans le présent travail, nous décrivons une recherche action que nous avons effectuée dans des écoles tunisiennes dont l'objectif est d'essayer de repérer et d'analyser les difficultés liées à la cohérence textuelle dans les productions écrites des élèves tunisiens afin de comprendre et d'expliquer les processus cognitifs effectués par les apprenants en situation d'écriture. Cette procédure nous a permis de concevoir des séquences de remédiation basées sur des activités métacognitives qui visent le développement des stratégies d'autorégulation des élèves et par conséquent l'amélioration de leurs performances scripturales.Les résultats obtenus nous ont permis de vérifier l'impact de la pratique de la métacognition sur les performances des scripteurs novices. Les méthodes que nous avons expérimentées pourraient être des pistes de recherche pour l'apprentissage des langues étrangères aux Etats-Unis.
Fichier principal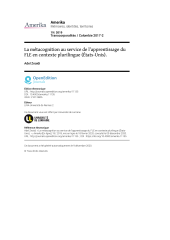 amerika-11135.pdf (702.42 Ko)
Télécharger le fichier
Origin : Publisher files allowed on an open archive