Organizational justice: a lever for the wellness of local managers ?
La justice organisationnelle : un levier pour le bien-être des cadres de proximité ?
The correlation between organizational justice and wellness at work appears to be a fundamental element in the framework of human resources management in recent years. Through this study, several dimensions and concepts are associated such as stress, burnout and organizational commitment in order to estimate the relationships of organizational justice with proximity managers in a hospital. A pronounced connection appeared in the results of this study between equity, consideration, communication, benevolence, trust and user satisfaction allowing to obtain the perspective of efficient management through a heuristics scheme: the managerial cube.
La corrélation entre justice organisationnelle et bien-être au travail apparaît comme un élément fondamental dans le cadre de la gestion des ressources humaines ces dernières années. Au travers de cette étude, plusieurs dimensions et concepts sont associés comme le stress, l'épuisement professionnel et l'engagement organisationnel afin d'estimer les relations de la justice organisationnelle auprès des cadres de proximité en milieu hospitalier. Une connexité prononcée est apparue dans les résultats de cette étude entre l'équité, la considération, la communication, la bienveillance, la confiance et la satisfaction des usagers permettant d'obtenir la perspective du management efficient par le biais d'un schéma heuristique : le cube managérial.
Fichier principal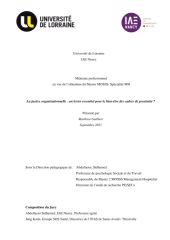 2021_GUILBERT_JUSTICE_ORGANISATIONNELLE.pdf (17.64 Mo)
Télécharger le fichier
Origin : Files produced by the author(s)