Influence de la disponibilité en lumière et de la taille sur les attributs fonctionnels et le bilan de carbone de l'arbre
At the individual tree scale, species shade tolerance abilities are govemed by the sum of numerous traits, which, in tum, define tree carbon balance. ln this study, contrasting scales of processes (leaf physiology, crown morphology and biomass partitioning) as weIl as the individual integrated functioning (light interception efficiency, above- and below-ground gas exchanges) were studied on sugar maple (Acer saccharum Marsh., a shade tolerant species) and yellow birch (Betula allghaniensis _ritt., a mid shade tolerant species). Results showed the additional importance of individual size, alone or in interaction with light availability, in the variation of seedling performance. Thus, species shade tolerance may not be constant during whole tree life span and may be highly dependent on the size reached by an individual under any given light environment.
à l'échelle de l'individu, la tolérance à l'ombre des arbres est définie par la somme de nombreux paramètres qui déterminent leur bilan carboné. Dans cette étude, différentes échelles de processus (physiologie foliaire, morphologie de cime, répartition de biomasse) ainsi que le fonctionnement intégré à l'échelle de l'individu (efficience interception de lumière et échanges gazeux des parties aériennes et souterraines) ont donc été étudiés chez l'érable à sucre (Acer saccharum Marsh., tolérant à l'ombre) et le bouleau jaune (Betula allghaniensis Britt., semi tolérant à l'ombre). L'ensemble des résultats démontre qu'en plus de la disponibilité en lumière, la taille des individus représente un facteur important de variation de la performance des semis. De ce fait, la performance d'un individu dans un environnement lumineux donné pourrait ne pas être constante au cours de son développement et être très dépendante de la taille atteinte sous cet environnement.
Fichier principal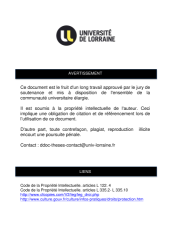 SCD_T_2004_0111_DELAGRANGE.pdf (29.77 Mo)
Télécharger le fichier
Origin : Files produced by the author(s)