Développement de formes orales d'héparine et de formes à libération prolongée de warfarine : Une réponse à l'amélioration de la prévention de la thrombose ?
Cardiovascular diseases resulting from thromboembolic events represent a real public health problem cause to their frequency and their severity. Used for the prevention or treatment of thrombosis, heparins and vitamin K antagonists are the two cornerstones of anticoagulant medication. The studies presented in this work describe new dosage forms for these molecules. The first two studies report the development of two new pharmaceutical systems allowing oral administration of low molecular weight heparins (enoxaparin and bemiparin). These systems were manufactured with very simple and widely used pharmaceutical processes: granulation and pelletization. The use of commercial aqueous suspensions of ethylcellulose and polymethacrylate has led to the elimination of organic solvents from the preparation of heparin granules and pellets, which insures the safety of the workers as well as the patients. After oral administration to rabbits, granules and pellets of low molecular weight heparins allowed obtaining anti-Xa activity above the therapeutic threshold of 0.2 U anti-Xa/ml. Thanks to its polycationic nature, Eudragit®RS30D seems to play an important role on the release of heparin from microparticles and, also on its oral absorption. The biological activity of heparins was maintained till 4 and 7 months for the granules and pellets, respectively. Our last study enabled the production of warfarin microparticles based on poly-e-caprolactone and, using the single o/w emulsion solvent extraction /evaporation method. The inclusion of polyvinyl pyrrolidone in the polymeric matrix allowed modifying the released kinetic of warfarin. The subcutaneous administration of warfarin microparticles to rabbits allowed obtaining therapeutical anticoagulant activity (INR 2-3) during 30 hours.
Les maladies cardiovasculaires consécutives à des accidents thromboemboliques représentent un véritable problème de santé publique tant par leur fréquence que par leur gravité. Utilisés pour la prévention ou pour le traitement des thromboses, les héparines et les antagonistes de la vitamine K constituent les deux pierres angulaires du traitement anticoagulant médicamenteux. Les travaux rapportés dans ce mémoire décrivent de nouvelles formes d'administration pour chacune de ces molécules. La première partie des travaux concerne la mise au point de deux nouveaux systèmes galéniques permettant l'administration orale de deux héparines de bas poids moléculaire (énoxaparine et bémiparine). Les deux nouveaux systèmes mis au point utilisent des procédés de fabrication très simples et largement répandus dans l'industrie pharmaceutique : la granulation et la pelletisation. L'utilisation de suspensions aqueuses commerciales d'éthylcellulose et de polyméthacrylate a permis l'éviction des solvants organiques des étapes de fabrication des granulés et des pellets d'héparine ce qui constitue un avantage certain en terme de sécurité, tant pour les opérateurs de production que pour les patients. Après administration orale chez le lapin, les granulés et les pellets d'héparines de bas poids moléculaire ont permis l'obtention d'activités anti-Xa supérieures au seuil thérapeutique de 0,2 U anti-Xa/ml. Par sa nature polycationique, l'Eudragit®RS30D, semble jouer un rôle important tant sur la libération des héparines que sur leur absorption par voie entérale. L''activité biologique des héparines fut conservée jusqu'à 4 et 7 mois respectivement pour les granulés et les pellets. Notre dernière étude a permis la fabrication de microparticules de warfarine à base de poly-e-caprolactone par la méthode de simple émulsion avec extraction et évaporation du solvant. L'incorporation de polyvinyl pyrrolidone au sein de la matrice polymérique a permis d'augmenter la quantité libérée de principe actif. L'administration des microparticules de warfarine par voie sous-cutanée à des lapins permis l'obtention de valeurs de rapport international normalisé comprises dans l'intervalle thérapeutique (INR 2-3) durant près de 30 heures.
Fichier principal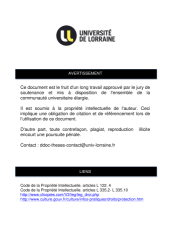 SCD_T_2009_0091_SCALA-BERTOLA.pdf (2.44 Mo)
Télécharger le fichier
Origin : Files produced by the author(s)