Contrôle-commande d'un générateur asynchrone à double alimentation avec système de stockage pour la production éolienne
This thesis deals with the design, analysis and simulation of a constant grid power wind energy conversion system based on electrical energy storage and indirectly controlled doubly fed induction generator (DFIG). This horizontal axis wind turbine system generates a constant active power through the grid under all wind conditions. The incorporation of a battery or other energy storage device in the DC link enables temporary electrical energy storage. The modelling of the mechanical part of the turbine is particularly detailed, a variable blade pitch wind turbine is used for maximal power extraction. Then, modelling, direct control and indirect control of the DFIG are presented. Independent control of active and reactive powers is achieved and the storage unit rating for this operation is particularly detailed. The Maximum Power Point Tracking (MPPT) control of this unit is also discussed. Simulation results validate the study for two experimental long duration wind speed profiles. This wind energy conversion system can offer some system service like power factor compensation or harmonic minimisation. So, the DFIG is used, with an additional control, to reduce harmonics currents present in the grid. This system facilitates the integration of the wind turbine in the distribution network because the manager of the grid can have a constant active power and some useful systems services.
Cette thèse traite de l'étude, la modélisation et la simulation d'un système de conversion d'énergie éolienne, permettant de fournir au réseau une puissance constante, basé sur une unité de stockage d'énergie et une machine asynchrone à double alimentation (MADA). Cette éolienne à axe horizontale fournie au réseau une puissance active constante quelles que soient les conditions de vent. L'association de batterie ou autre système de stockage sur le bus continu permet de stocker temporairement de l'énergie. La modélisation de la partie mécanique de l'éolienne est particulièrement détaillée, une hélice à angle de calage variable est utilisée pour maximiser la puissance extraite. Ensuite, la modélisation, le contrôle direct et le contrôle indirect de la MADA sont présentés. Un contrôle indépendant des puissances active et réactive est utilisé et le dimensionnement de l'unité de stockage pour cette utilisation est particulièrement détaillé. La commande de l'ensemble avec la recherche du point de fonctionnement à puissance maximale (MPPT) est expliquée. Des résultats de simulations permettent de valider l'étude pour deux profils de vent longue durée. Ce système de conversion éolien permet d'offrir des services systèmes comme la compensation de facteur de puissance ou la minimisation de courants harmoniques présent sur le réseau. Ainsi, la MADA est utilisée, avec une commande additionnelle, pour réduire les harmoniques de courant du réseau. Ce système facilite l'intégration des éoliennes dans le réseau de distribution car le gestionnaire du réseau peut avoir une puissance constante et des services systèmes utiles.
Fichier principal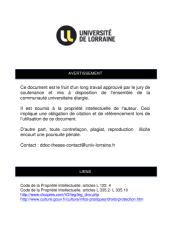 SCD_T_2006_0162_BOYETTE.pdf (16.14 Mo)
Télécharger le fichier
Origin : Files produced by the author(s)