On the free motion of a particle in a rotation fluid at small Reynolds numbers :
Étude du mouvement libre d'une particule dans un fluide en rotation solide à faibles nombres de Reynolds : mise en évidence des forces d'histoire et d'inertie
The motion of a spherical inclusion released in a vertical solid-body rotation flow is investigated theoretically and experimentally. Solid spheres, bubbles and drop are considered. The particle Reynolds number and the Taylor number nimber are smaller than unity. The motion equations of the inclusion are obtained by revisiting the hydrodynamic equations. The axial (vertical) motion and the horizontal motion are uncoupled, even though they are sensitive to the rotation rate of the flow. Analytical solutions of the particle motin equation are compared to experimental results obtained by releasing a particle in a rotating tank filled-up with silicone oil. For solid spheres and bubbles, both the terminal velocity and the particle ejection rate (or trapping rate) predicted by the theory agree with experiments, without any empirical adjustment. ln particular, the experimental device enables to check the validity of various theories involving solid or fluid inclusions with or without inertia or history effects. ln agreement with Miyazaki's theory (1995), the mobility tensor of Herron, Davis and Bretherton (1975), obtained by writing the fluid motion equations in the rotating frame, accurately predicts the horizontal particle trajectory, like the Boussinesq-Basset equation obtained by writing the fluid motion equations in the non-rotating frame and neglecting the horizontal contribution of inertia effects.
Ce travail est consacré à une étude théorique et expérimentale du mouvement d'une particule sphérique solide, fluide ou gazeuse relâchée dans un fluide en rotation solide verticale et à faibles nombres de Reynolds et de Taylor. A cet effet, nous avons conçu un dispositif expérimental constitué d'un cylindre tournant, rempli d'huile de silicone et dans lequel sont relâchées nos particules. Au cours de nos expériences ces dernières sont filmées avec une caméra rapide, ce qui nous permet de mesurer avec précision l'évolution temporelle de leurs coordonnées spatiales. L'analyse théorique, qui s'inscrit dans une thématique de recherche relativement ancienne, corrobore l'étude de Herron, Davis et Bretherton (1975) en ce qui concerne les particules solides, et généralise leurs résultats au cas des inclusions fluide et gazeuse: bien que les vitesses de sédimentation des particules et les vitesses de migration dans le plan horizontal soient découplées, celles-ci sont affectées par la vitesse de rotation imposée au cylindre. Par ailleurs, et conformément à l'analyse théorique de Miyazaki (1995), nous observons que le mouvement horizontal de nos particules est correctement décrit par l'équation de mouvement de Boussinesq-Basset obtenue après analyse de l'écoulement de perturbation dans un référentiel non tournant et après avoir négligé, bien que cela ne soit pas tout à fait légitime, la contribution horizontal des effets d'inertie.
Fichier principal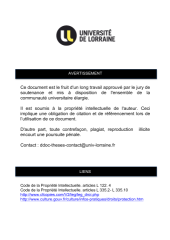 INPL_T_2005_CANDELIER_F.pdf (18.01 Mo)
Télécharger le fichier
Origin : Files produced by the author(s)