Photosynthèse, répartition des assimilats et rhizodéposition chez le maïs (Zea Mays L.) soumis à la compaction du sol
The objective of this work was to investigate the effects of soil compaction on carbon assimilation, photosynthate partitioning, and morphology of corn plants during vegetative growth period up to tassel initiation. We were particularly interested in carbon input into the soil and soil microbial biomass. Corn plants were grown in culture pots containing compacted soil (bulk density of 1.45 g cm-3 ) or loose soil (bulk density of 1.30 g cm-3). Experiments were conducted in a growth chamber and lasted for 21 to 42 days. Carbon partitioning in the plant-soil system was evaluated using 14C pulse-labeling techniques. The increase in soil bulk density decreased carbon assimilation rate and total carbon fixation. Furthermore, soil compaction delayed leaf appearance rate decreasing therefore plant height, shoot dry weight, and leaf area. In addition, root biomass and root elongation were also inferior when plants were grown in compacted soil and root length appeared to be the most sensible parameter to high soil mechanical resistance. Simultaneously, a great increase in carbon input into the soil occurred to the detriment of root carbon. Soil microbial biomass increased considerably in compacted soil thanks to this increase in carbon substrates and to physical protection provided for soil microflora as a result of the reduced porosity in compacted soil. Three hypotheses were formulated to explain these results: 1- a decrease in soil or root water potential or a sink limitation induces a down-regulation of photosynthetic activity, 2- the increase in root diameter decreases soil mechanical resistance, and 3- the increase in carbon rhizodeposition alleviates the effects of mechanical constraint. The effects of soil compaction persisted with plant age although the difference between the two treatments decreased in terms of percentage.
L'objectif de ce travail a été d'étudier l'effet de la compaction du sol sur l'activité photosynthétique, la répartition des assimilats et la morphologie du maïs en phase de croissance végétative, jusqu'à la sortie de la panicule mâle. Nous nous sommes en particulier intéressés à la rhizodéposition du carbone et à ses conséquences sur la biomasse microbienne du sol. Nous avons comparé des plantes cultivées dans des pots contenant un mélange de terre et de sable (2/1) présentant deux densités apparentes : 1,45 g cm-3 pour le sol compacté et 1,30 g cm-3 pour le témoin. Les expériences ont été conduites dans un phytotron pendant 21 à 42 jours. La répartition du carbone a été établie à l'aide des techniques de marquage court au 14 C. La densité apparente élevée du sol induit une diminution de l'activité photosynthétique et de la quantité de carbone fixée. La compaction du sol provoque un ralentissement du rythme d'émission foliaire, réduisant ainsi la hauteur des plantes, la biomasse des parties aériennes et la surface foliaire. La biomasse et la longueur racinaires sont inférieures chez les plantes subissant la compaction du sol. Simultanément, une forte augmentation de la rhizodéposition est observée dans le sol compacté. Ainsi, la biomasse microbienne du sol augmente fortement grâce à l'abondance de substrats, carbonés et à la protection physique que la compaction assure à la microflore en réduisant la porosité du sol. Pour expliquer ces résultats, nous avons émis trois hypothèses : 1- une diminution du potentiel hydrique ou une limitation de la force de puits .des racines est à l'origine de la baisse de l'activité photosynthétique, 2- l'expansion du diamètre racinaire permet de surmonter la résistance du sol à la pénétration et 3- l'augmentation de la libération du carbone dans le sol réduit les effets de la contrainte mécanique. Les effets de la compaction persistent avec l'âge des plantes bien qu'ils diminuent en termes de pourcentage entre les deux traitements.
Fichier principal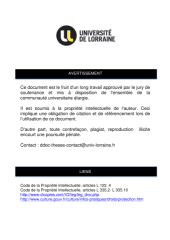 INPL_T_2000_TUBEILEH_A.pdf (13.98 Mo)
Télécharger le fichier
Origin : Files produced by the author(s)