Constructions d'ordres, analyse de la complexité
Our concern in the thesis is in the study of orders, through the analysis of complexity within rewriting, but also through the construction of monotonous [lambda]-calculi within the framework of ordinal terms, and subrecursivc hierarchies. We show how to extract some knowledge in terms of complexity from the proof of termination in rewriting theory. This allows us to establish some hierarchies of caracterisation of complexity classes in terms of rewriting. So, one has an a priori complexity measure of functions with respect to their proof of termination. We study more specifically the case of the Knuth-Bendix ordering and polynomial interpretations. Next to that, we engaged ourselves into an other challenge, a more fundamental approach. This concerns the notion of ordering within typed [lambda]-calculi. The interest comes from the fact that such a representation is necessary when one has to represent a structure with an [oméga] -ary operation: that is an operation that only applies to monotonous sequences (which is the case of ordinal terms). We develop semantical tools, in particular we present a mono id al close category on graphs, but also syntactical constructions, in particular a calcul us where types arc graphs in which the traditional approach would be in terms of sets.
Le thème de la thèse concerne l'étude des ordres, en termes de complexité en réécriture, mais aussi dans le cadre des termes ordinaux, des hiérarchies de fonctions sous-récursives. Nous avons cherché à extraire de la notion de preuve de terminaison des informations concernant la complexité des fonctions calculées par des systèmes de réécriture. Cela nous a permis d'établir de nombreuses caractérisations, en termes de complexité, des systèmes de réécriture. Ainsi, est-il possible de déterminer a priori la complexité d'un système, au seul vu de sa preuve de terminaison. Nous étudions plus spécifiquement le cas de l'ordre de Knuth-Bendix et celui de l'ordre par interprétation polynomiale. D'autre part, nous avons entamé une recherche plus fondamentale concernant la représentation de la notion d'ordre dans les [lambda]-calculs typés. Cet intérêt provient de ce qu'une telle représentation est nécessaire dès lors que l'on veut représenter des structures définies par des opérateurs [oméga] -aire, ce qui est le cas des termes ordinaux par exemple. Nous étudions d'un point de vue sémantique l'univers de travail, nous dégageons en particulier une notion de structure monoïdale fermée, mais aussi de manière syntaxique en proposant un calcul pour lequel un type représente un graphe plutôt qu'un (traditionnel) ensemble.
Fichier principal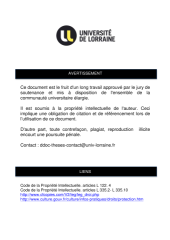 INPL_T_2000_BONFANTE_G.pdf (10.38 Mo)
Télécharger le fichier
Origin : Files produced by the author(s)