L'échec du livre électronique de Cytale au prisme des processus de traduction
This study is dedicated to the analysis of the destiny of a French company, Cytale, manufacturer of the Cybook, an electronic book marketed in 2001 and 2002. We have managed to explain the reason which has led Cytale to make a proposal consisting in reading on a digital and electronic device, and we have tried to understand the nature of its failure. We consider this question under various sets of themes, as Cytale has been forced to cope with all of them : the building of an object. how cytale defines its identity. how cytale and its partners negociate the forms and features of the object. how a network is organized. a system marketed contrary to computing logics. reading on screen : facing the habits of reading on paper. the nature of the library designed by cytale and the evolution of cytale customers.The tools given by the sociology of translation, among others, have allowed us to understand how the Cybook has tried to translate the book, seen as an object, and how this e-book has tried to translate the opposing interests of different worlds that Cytale has wished to gather in a network among which its existence would be justified. The carrying out of its electronic book appears as the result of a negotiation on many different levels, but the reliability of alliances that Cytale managed to seal around its Cybook is a delicate issue. This is one of the reasons explaining the failure of this process, or its early withdrawal. It is from this point of view that we have used the interviews carried out in 2003 and 2004 of forty actors who directed, financed, competed with and revolved around Cytale. Complementary theoretical tools, the sociologies of innovation, of reading and of usage regularly gave us the opportunity to support an argumentation and to work out comparative footbridges.
L'échec du livre électronique de Cytale au prisme des processus de traduction. Cette étude est consacrée à l'analyse du destin d'une société française, Cytale, conceptrice du livre électronique Cybook commercialisé en 2001 et 2002. Nous avons tenté d'expliquer la raison qui amène Cytale à faire une proposition de lecture sur support électronique et numérique, et de comprendre la nature et les causes de l'échec de cette innovation technologique. C'est cette problématique que nous déclinons sous différentes thématiques, qui furent également celles de l'existence de Cytale: la construction de l'objet. La définition d'une identité. La négociation à propos de l'objet, la constitution du réseau. La commercialisation d'un système contre-nature. Le débat à propos d'un écran qui " fait écran ". La nature de la bibliothèque de Cytale et l'évolution des publics du Cybook. Les outils de la sociologie de la traduction, notamment, nous permettent de comprendre comment le Cybook a traduit l'objet livre, ainsi que les intérêts de mondes séparés et parfois opposés  que Cytale a souhaité rassembler en un réseau au sein duquel son existence se serait trouvée justifiée. La réalisation de son livre électronique apparaîit comme le fruit d'une négociation plurielle, mais la solidité et la cohérence des alliances que Cytale était parvenue à sceller autour du Cybook pose question. Voilà présentée l'une des raisons qui expliquent l'échec de ce processus, son abandon prématuré. C'est dans cette perspective que nous avons exploité les entretiens que nous avons eus en 2003 et 2004 avec une quarantaine d'acteurs qui ont dirigé, financé, concurrencé Cytale et gravité autour d'elle. Outils théoriques complémentaires, les sociologies de l'innovation, de la lecture et de l'usage nous ont donné régulièrement l'occasion d'étayer une argumentation et d'élaborer des passerelles comparatives.
Fichier principal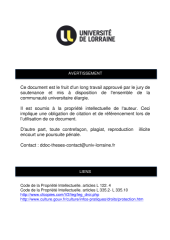 Nauroy.Dominique.LMZ0512.pdf (4.15 Mo)
Télécharger le fichier
Origin : Files produced by the author(s)