Contribution à l'étude des hétérogénéités de texture des billettes d'IMI 834
The IMI 834 is a quasi-[alpha] titanium alloy used to design high pressure compressors for aero-engines. The microstructure of the final parts is composed of equiaxed primary [alpha]p grains in a lamellar matrix of secondary [alpha]s colonies (also called Widmanstätten microstructure). This bimodal microstructure was optimised to provide a good behaviour of the material in both creep and fatigue. However, the forged parts can contain millimetre long regions called macrozones, characterised by very sharp local textures which seem to significantly reduce the fatigue resistance of the material, in particular in dwell fatigue testing. This work is a detailed study of the texture heterogeneities and local microstructures that are damageable for the fatigue resistance of bimodal IMI 834 billets. The observed microstructures contain important indications on the formation of these heterogeneities during the billet elaboration. Their analyses allow for a better understanding of the genesis of the heterogeneities and further, guide us toward additional thermomechanical heat treatments that could lead to their reduction. The study is based on orientation maps obtained by the EBSD technique and on specifically developed tools. We first elaborated a method to distinguish the [alpha]p grains from the [alpha]s colonies, automatically on orientation maps. Thus, we determined the contribution of each population of grains to the formation of the heterogeneities. Moreover, we used the partial orientation map of the [alpha]s phase to calculate the parent [bêta] microtextures and deduced the high temperature microstructure formed by the combination of the [alpha]p and the [bêta] phases. Thus, we analysed the influence of this complex microstructure on the formation of the macrozones. In parallel, we took advantage of various compression tests to follow the development of the macrozones and suggest a deformation route that can reduce their intensity. Our work shows that the macrozones correspond to regions elongated in the axial direction of the billet, in which [alpha]p grains have an unique but dispersed texture component, so that the c axes mainly point in the radial direction. The [alpha]p colonies are oriented around several texture components but have their main component matching the unique component of the [alpha]p grains. In these zones, the local texture of the parent [bêta] phase is relatively smooth. Consequently, the macrozones cannot correspond directly to the traces of the large [bêta] grains strongly elongated in the axial direction after the forging in the [beta] field. The sharp [alpha]p texture results from an heterogeneous deformation / globularisation of the [alpha] phase that initially corresponded to the colonies of lamellae that were in Burgers orientation relation with the [bêta] matrix. The sharp texture of the [alpha]s phase is inherited from the transformation of the [bêta] phase through a variant selection mechanism occurring during the [bêta] [to] [alpha]s phase transformation in the presence of [alpha]p grains. In this variant selection, we have highlighted the role of certain [alpha]p/[bêta] phase interfaces which promote certain [alpha]s variants that minimise the [alpha]p/[alpha]s misorientations. Moreover, modelling showed that the elastic anisotropy due to the strong local textures of the [alpha]p phase tends to favour the [alpha]s orientations close to [alpha]p orientation. The analysis of the different results led us to make further compression tests to evaluate the possibility of reducing the macrozones. This work offers some new perspectives in the production of industrial parts in IMI 834.
L'IMI 834 est un alliage de titane pseudo-[alpha] utilisé pour la fabrication de compresseurs haute pression de moteurs d'avions. La microstructure des pièces en service, est formée de grains [alpha]p primaires équiaxes dans une matrice de colonies lamellaires [alpha]s (ou de Widmanstätten). Cette microstructure bimodale a été optimisée pour obtenir un bon compromis de comportements du matériau en fluage et en fatigue. Toutefois, les pièces forgées peuvent renfermer des zones de tailles millimétriques (appelées 'macrozones'), caractérisées par de très fortes textures locales, qui semblent avoir une influence significative sur la réduction de la tenue en fatigue du matériau, notamment lors du maintien de la charge (dwell fatigue). Ce travail propose une étude détaillée des hétérogénéités de texture et microstructure locales présentes dans les billettes d'IMI 384 de structure bimodale et dommageables pour la tenue en fatigue. Les microstructures observées contiennent des indications importantes sur la formation de ces hétérogénéités au cours de l'élaboration de la billette. Leur analyse nous a permis une meilleure compréhension de la genèse de ces hétérogénéités et à termes nous guide vers des traitements thermomécaniques additionnels conduisant à leur réduction. L'étude s'appuie sur les données de cartographies d'orientations obtenues par la technique EBSD et sur des outils spécifiques spécifiquement développés pour cette étude. Nous avons tout d'abord élaboré une méthode qui permet de distinguer automatiquement sur les cartographies d'orientations, les orientations des grains [alpha]p des orientations des colonies [alpha]s. La contribution de chaque population de grains, à la formation des hétérogénéités de texture a pu ainsi être déterminée par nos soins. Par ailleurs, nous avons utilisé les cartographies partielles de la phase [alpha]s pour recalculer les microtextures [bêta] parentes et déduire la microstructure à haute température formée par l'enchevêtrement des phases [alpha]p et [bêta]. Nous avons ainsi examiné l'incidence de ces microstructures complexes sur la formation des macrozones. Parallèlement, nous avons tiré parti de différents essais de compression dans les domaines[bêta] et [alpha]/[bêta], pour suivre le développement des macrozones et suggérer des chemins de déformation réduisant leur présence. Nos travaux montrent que les macrozones correspondent à des zones fortement allongées dans la direction axiale de la billette, dans lesquelles les grains [alpha]p présentent une composante de texture unique mais dispersée, telle que les axes c soient principalement dans une direction radiale. Les colonies[alpha]s sont orientées autour de plusieurs composantes de texture mais avec une composante majoritaire proche de l'orientation des grains [alpha]p. Dans ces zones, la texture locale de la phase [bêta]parente est peu marquée. Par conséquent, les macrozones ne correspondent pas directement à la trace de larges grains [bêta] fortement allongés selon la direction axiale, suite aux étapes de forge en [bêta]. La forte texture de la phase [alpha]p est le résultat d'une déformation / globularisation hétérogène de la phase[alpha] se présentant initialement sous forme de lamelles regroupées en large colonies, en relation de Burgers avec la phase [bêta] environnante. La texture marquée de la phase[alpha]s est héritée de la transformation de la phase [bêta] par un mécanisme de sélection de variantes lors de la transformation [bêta] [vers] [alpha]s, en présence des grains [alpha]p. Nous avons mis en évidence, pour cette sélection de variantes, le rôle de certains joints spécifiques [alpha]p/bêta, permettant le développement de colonies [alpha]s minimisant les désorientations [alpha]p/[alpha]s. Par ailleurs, la modélisation montre également que l'anisotropie élastique liée aux fortes textures locales de la phase [alpha]p tend à privilégier les orientations [alpha]s proches de l'orientation des grains [alpha]p. L'examen de ces différents résultats nous a conduit à réaliser des essais additionnels de compression de la billette pour tester la possibilité de réduire les macrozones par des déformations complémentaires adaptées. Ce travail ouvre des perspectives pour l'optimisation des traitements thermomécaniques pour la réalisation des pièces industrielles en IMI 834.
Fichier principal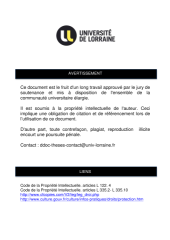 Germain.Lionel.SMZ0518.pdf (37.46 Mo)
Télécharger le fichier
Origin : Files produced by the author(s)