Diffusion of macromolecules in calcium alginate hydrogels
Etude du transfert diffusionnel de solutés macromoléculaires dans les hydrogels d'alginate de calcium :
This study deals with diffusion of macromolecules (pullulans with a large range of molecular weights standing from 780 to 788 000 g.mol-1) into spherical particles of calcium alginate hydrogel. Thanks to variations of polymer volumic fraction in the hydrogel and of solute molecular weight, different experimental situations have been experimented. Measurements of diffusion kinetics have been performed with 3 independent methods which have demonstrated various adaptability to this situation: uptake experiments using or not an analysis loop and column experiments. This assays showed that uptake experiments with an analysis loop is more convenient. Effect of the analytic loop on the results has been studied and lead to the definition of experimental recommendations. Moreover, a parameters sensibility analysis enables the determination of an optimum of sensibility for diffusion coefficient determination. Applying these recommendations, diffusion and partition coefficients have been estimated. Characterisation of the system alginate/pullulan and transfert data were used to modelling relationships between structural and diffusional properties. Both results obtained in diffusion and partition showed that a hydrodynamic approach postulating a porous model for the gel gave the best adequation between models and experiments.
Ce travail porte sur l'étude de la diffusion de solutés macromoléculaires (des pullulanes de masse moléculaire Mw comprise entre 780 et 788 000 g.mol-1) dans des particules sphériques de gels d'alginate de calcium de fraction volumique PhiP variable. La variation de Mw et PhiP a ainsi permis de balayer une large gamme de situations expérimentales par l'intermédiaire de variations de la taille du soluté et de la densité du réseau. Le suivi des cinétiques de diffusion a été réalisé grâce à la mise en ?uvre de 3 types d'essais : suivi après dosage de prélèvements au cours du temps, essais sans prélèvement par utilisation d'une boucle d'analyse et utilisation de colonnes de laboratoires. Les essais en système fermé avec boucle d'analyse ont fait l'objet d'une étude de l'effet perturbateur de la boucle conduisant à la définition de domaines de travail adaptés (où l'erreur reste acceptable). D'autre part, une analyse de sensibilité de paramètre a conduit à la détermination d'un optimum des cinétiques de diffusion pour la détermination du coefficient de diffusion. L'application de ces recommandations au système alginate/pullulane a permis l'estimation des paramètres diffusionnels tandis que diverses méthodes ont été utilisées pour la caractérisation du gel et du soluté. Ces deux niveaux d'étude du système (structure/transfert) ont finalement été associés dans le but de la modélisation prédictive de relations structure/paramètres diffusionnels afin de permettre la conception rationnelle de systèmes à libération contrôlée. Parmi les nombreux modèles testés, une description correcte a pu être obtenue, tant pour les coefficient de partition que pour les coefficients de diffusion, avec une approche de type hydrodynamique postulant l'existence de pores de dimension caractéristique rP.
Fichier principal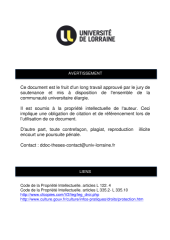 2005_MAZENS_D.pdf (6.11 Mo)
Télécharger le fichier
Origin : Files produced by the author(s)