Experimental study of reinfection by the Protozoan parasite "Toxoplasma gondii"
Etude expérimentale de la réinfection par le protozoaire parasite toxoplasma gondii
The Protozoon "Toxoplasma gondii" can infect all warm blooded vertebrates and induce an acute infection followed by a chronic stage that persists as tissue cysts. The primary infection is usually believed to protect against any further infection by the parasite. However, this belief has never been formally proven, because there were no convenient tools to distinguish between two coinfection strains. Our project aimed at investigate this matter experimentally. We have therefore developed a new model using a transgenic strain of "T. gondii" expressing the "E. coli" LacZ gene (strain Pru[bêta]gal) which can be easily distinguished from wild strains in situ. We have then performed a series of infections and reinfections asociating the Pru[bêta]gal strain with several others strains belonging to the two major cystogenic "T gondii" genotypes. We have demonstrated that a reinfection was possible, but only with a reinfecting strain of a different genotype from the primary strain. We have also studied the early stages of parasitic development and shown that, when the protection to reinfection operates, it does so during the first hours of interaction between the parasite and the intestinal mucosa of the host. Last, we have combined our model with a microsatellite approach to study the kinetics of development of the protection to reinfection. We have shown that it was complete 7 days after primary infection.
"Toxoplasma gondii" est un protozoaire infectant tous les animaux homéothermes. Ce parasite persiste dans l'organisme à l'intérieur des kystes provoquant une infection chronique. Il est généralement admis que cette primo infection protège l'hôte contre toute réinfection, mais la démonstration de cette assertion n'a pas été apportée, faute d'outils pour distinguer deux sources coexistant chez un hôte. L'objectif de notre travail a été d'explorer expérimentalement cette question. Nous avons donc développé un modèle reposant sur une souche transgénique de "T gondii" exprimant le gène LacZ (souche Pru[bêta]gal), permettant ainsi de distinguer cette souche d'une souche sauvage.Nous avons ensuite réalisé une série d'infections et de réinfections en associant la souche Pru[bêta]gal et diverses autres souches appartenant aux deux génotypes majeurs kystogènes connus dans cette espèce. Nous avons ainsi démontré que la réinfection était possible , mais qu'elle n'intervenait que lorsque la souche réinfectante appartenait à une autre génotype que la souche de primo infection. Nous avons par ailleurs étudié les phases précoces du développement parasitaire et démontré que lorsque la protection à la réinfection s'exerce, elle opère dans les premières heures de l'interaction entre le parasite et la muqueuse intestinale. Enfin, nous avons combiné l'utilisation de notre modèle et de la PCR des microsatellite pour étudier la cinétique de la mise en place de la protection à la réinfection et montré qu'elle était totale dès 7 jours après primoinfection.
Fichier principal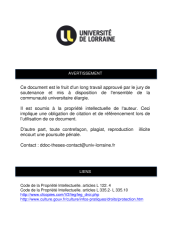 SCD_T_2002_0294_DAO-THUC-TRINH.pdf (28.75 Mo)
Télécharger le fichier
Origin : Files produced by the author(s)