Caractérisation moléculaire de la matière organique dans des milieux anthropisés
Organic matter is a complex mixture of molecules of various sizes and origins bearing information related to the environmental conditions and the different contributions identified the studied environment. Its molecular characterization makes it possible to highlight source markers, to define its degradation state and its degree of anthropization. Replaced in a broader context, the study of the organic fraction of any matrix allows a better understanding of the solid and dissolved transfer of matter in a given environment, its chronology and its reactivity. My research focused on describing the molecular composition of organic materials, mostly of anthropic origin, such as crude oil or highly contaminated such as sewage sludge or aquatic sediments in urban and industrial environments. Their exhaustive characterization allowed me to identify molecular markers relevant to the tracing of contaminant transfers in aquatic environments. Focusing more specifically on polycyclic aromatic compounds, the study of the remobilization of contaminated sediments in an industrial river in northern Lorraine has highlighted the impact of a century of steelmaking activities in this valley. We showed that the river still bears the signature of this pressure thirty years after the cessation of activities and that it is possible to identify the different ways of transfer of contaminants according to the hydrological conditions.
Assemblage complexe de molécules de taille et d'origine variées, la matière organique porte dans sa composition des informations relatives aux conditions environnementales et aux diverses contributions identifiées dans le milieu étudié. Sa caractérisation moléculaire permet de mettre en évidence des marqueurs de sources, de définir son état de dégradation et son degré d'anthropisation. Replacée dans une problématique plus large, l'étude de la composante organique d'une matrice permet de mieux comprendre les transferts de matière dans un milieu, d'en définir l'évolution chronologique et de définir sa réactivité. Mes travaux de recherche se sont attachés à décrire la composition moléculaire de matières organiques pour la plupart d'origine anthropique comme des bruts pétroliers ou fortement contaminées telles que des boues d'épuration ou encore des sédiments aquatiques en contexte urbains ou industriels. Leur caractérisation exhaustive m'a permis d'identifier des marqueurs moléculaires pertinents pour le traçage de transferts de contaminants dans les milieux aquatiques. Ciblant plus particulièrement les composés aromatiques polycycliques, l'étude de la remobilisation de sédiments contaminés dans une rivière sidérurgique du nord de la Lorraine a ainsi permis de mettre en évidence l'impact d'un siècle d'activité industrielle. Nous montrons que la rivière porte encore la signature de cette pression trente ans après la cessation des activités et qu'il est possible d'identifier différentes voies de transfert en fonction des conditions hydrologiques.
Fichier principal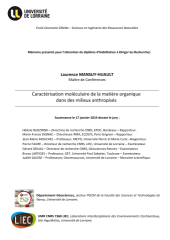 HDR 2018 LMH 12 nov 2018.pdf (19.03 Mo)
Télécharger le fichier
Origin : Files produced by the author(s)