The Metz bourgeoisie in the light of its spaces and its socio-economic characteristics : homogeneity or disparity ?
La bourgeoisie messine à l'aune de ses espaces et de ses caractéristiques socio-économiques : homogénéité ou disparité ?
Although the "Beaux quartiers" are less subject to sociological investigation, they remain prominent segregated spaces in France. Studies and research on the bourgeoisie and on specific spaces of the bourgeoisie are often focused on large French cities such as Paris, Lyons or Marseilles. A smaller city such as Metz has never been studied solely in terms of its bourgeois population.The objective of this dissertation is to examine the socioeconomic characteristics of the Metz bourgeoisie and the way in which it is distributed within the Metz urban area. The latter encompasses the central city of Metz and also its suburbs and suburban ring. Our research is based on empirical material consisting of semi-structured interviews conducted with representative members of the Metz bourgeoisie or highly regarded bourgeois and aristocratic Metz families, as well as with various specialists (real estate agents specialising in prestigious properties, art historians, etc.). In order to grasp the complexity of the Metz bourgeoisie, various statistical and cartographic indicators but also photographic material were used.Firstly, the study presents a state of the art on social and territorial fragmentation in France so as to highlight upward ghettoization.Secondly, the study sheds light on the main benchmarks of wealth and its estimation, while specifying the representational and multidimensional aspects. In addition, the challenges and difficulties of studying wealth and the bourgeoisie are also explained.The Metz bourgeoisie is then studied through the fourfold prism of its residential distribution, its sociability spaces, its socio-economic and socio-electoral characteristics, but also the prism of some of the city's great emblematic families – after a historical perspective.Finally, the study describes and comparatively analyses a particular space of the Metz bourgeoisie – the "Nouvelle Ville" neighbourhood – by showing elements of urban and social morphology and by explaining the criteria of residential selection and the forms of sociability specific to the inhabitants of this rich self-segregated neighbourhood.
Moins soumis à l'investigation sociologique, les « Beaux quartiers » n'en demeurent pas moins en France des espaces ségrégatifs de premier plan. Les études et travaux de recherche relatifs à la bourgeoisie et aux espaces de la bourgeoisie sont en outre souvent orientés vers les grandes villes françaises à l'instar de Paris, Lyon ou Marseille. Une ville de taille plus modeste comme Metz n'a jamais été étudiée au seul prisme de sa population bourgeoise.Ce travail de thèse a ainsi pour objectif de rendre compte des caractéristiques socio-économiques de la bourgeoisie messine et de la manière dont elle se distribue au sein de l'aire urbaine messine entendue comme la ville centre de Metz augmentée de sa banlieue et de sa couronne périurbaine. Notre recherche s'appuie sur un matériau empirique constitué d'entretiens semi-directifs menés auprès de membres représentatifs de la bourgeoisie messine ou de grandes familles messines mais aussi auprès de spécialistes divers (agents immobiliers spécialisés dans les biens de prestige, historiens de l'art, etc.). Afin d'appréhender la bourgeoisie messine dans toute sa complexité, nous avons également eu recours à divers indicateurs statistiques, cartographiques ou encore à du matériau photographique.L'étude se propose d'abord de présenter un état de l'art sur les fragmentations sociales et territoriales en France visant notamment à mettre en exergue la ghettoïsation vers le haut. L'étude fait ensuite apparaître les grands repères sur la richesse et son estimation tout en en précisant les aspects représentationnels et multidimensionnels. En outre, sont également explicités les enjeux et les difficultés à étudier la richesse et la bourgeoisie. La bourgeoisie messine est par ailleurs étudiée ensuite au quadruple prisme de sa distribution résidentielle, de ses espaces de sociabilité, de ses caractéristiques socio-économiques et socio- électorales mais également - après une mise en perspective historique – de quelques grandes familles emblématiques de la ville.Enfin, l'étude décrit et analyse de manière comparative, un espace de la bourgeoisie messine – le quartier Nouvelle-Ville – en donnant à voir et à comprendre des éléments de morphologie urbaine et sociale et en y explicitant les moteurs de choix résidentiels et les pratiques de l'entre-soi afférentes aux habitants de ce quartier.
Fichier principal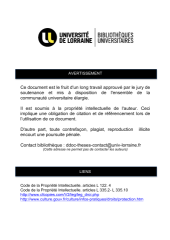 DDOC_T_2022_0055_DETTORI.pdf (10.2 Mo)
Télécharger le fichier
Origin : Files produced by the author(s)