Assessment of bioavailability of organochlorine pesticides in chain «soil – farm animals – food products»
Évaluation de la bioaccessibilité des pesticides organochlorés dans la chaîne "sol - animaux agricoles - produit alimentaire"
Soil could be the main vector for the transfer of persistent organic pollutants (POPs) to agricultural animals, and, accordingly, to the food products they produce (meat, milk, eggs). Farm animals especially free-range species could ingest soil in different proportions together with vegetation which in case of contamination context represent a serious consequence to produce insecure food of animal origin. Hereby, this study was mainly focused on sequestration strategies which could ensure the safety of food produced by livestock animals in POP contaminated areas.The current work was focused on organochlorinated pesticides (OCPs) among the POPs. These forbidden and obsolete chemicals have been stored over long time in facilities, which may have been deteriorated over the decades, which raises issues by their diffusion in the environment in various countries. The aim of the current study was to reduce OCPs transfer in the food chain «soil - farm animals - food products of animal origin» by the application of different carbonaceous materials based on activated carbons (AC) or biochars (BC), which are serious candidates to sequestrate POPs. The use AC/BC as soil amendment can adsorb POPs reducing its environmental availability but also their bioavailability for free-ranged animals, which may ingest soil and by consequence soil-bound pollutants.Several scientific concepts such as environmental availability, bioavailability, transfer rate, bioaccumulation factor, adsorption kinetics and adsorption isotherms were integrated into the current study using in vitro and in vivo approaches in order to investigate application of sequestration strategies based on ACs and BCs as possible solutions for reduction of the OCPs (DDT and metabolites, HCH isomers and CLD) transfer from soil to food products in contaminated areas. Several ACs (DARCO, ORBO, Shubarkol) and BCs (Japanese knotweed, Oak tree, Sargassum) were revealed by the current work as effective sequestrants that could be effectively used in sequestration strategies as soil amendment. In addition, physical and chemical properties of SMs, amendment rate, contact time between contaminants and SMs and fractions of soil organic matter appeared as factors explaining efficiency of sequestration strategies based on AC/BCs.Finally, sequestration strategy based on AC/BC can be especially effective under conditions of moderate soil contaminations, which could significantly reduce environmental availability of pollutants (up to 90%) and, as a result, transfer to food products
Le sol peut être le facteur majeur du transfert des polluants organiques persistants (POPs) aux animaux d'élevage et par conséquence aux denrées d'origine animale (viande, lait, œufs). Les animaux de ferme peuvent ingérer des quantités variables de sol en parallèle avec la végétation, notamment quand ils sont élevés en plein air ce qui mettra en péril la sécurité sanitaire des denrées dans le cas d'une zone contaminée. Ce travail a été focalisé sur les stratégies de séquestration qui peuvent apporter la sécurité sanitaire des denrées produits par des animaux d'élevage dans des zones contaminées par des POPs. Les différentes expérimentations ci-jointes ont été focalisées sur les pesticides organochlorés (OCPs) parmi les POPs. Le stockage de ces produits chimiques désormais interdits depuis de longues années dans des dispositifs parfois vétustes pose la question de leur pénétration dans l'environnement dans de nombreux pays. Le but de tous ces essais était de réduire le transfert des OCPs dans la chaîne « sol - animaux d'élevage - denrées d'origine animale » par l'application de différents matériaux carbonés basés sur des charbons actifs (CA) ou des biochar (BC) qui sont des candidats sérieux pour la séquestration des POPs. Les AC/BCs utilisés comme amendement du sol contaminé peuvent adsorber les OCPs en réduisant ainsi leur disponibilité environnementale mais aussi leur biodisponibilité pour des animaux qui peuvent ingérer du sol et par conséquence seront exposés ainsi aux polluants y étant présents. Différents concepts scientifiques comme la disponibilité environnementale, la biodisponibilité, le taux de transfert, les cinétiques et les isothermes d'adsorption ont été employés dans les différentes approches in vitro et in vivo afin d'étudier des stratégies de séquestration basées sur des CAs et des BCs comme possibles solutions pour réduire le transfert de différents OCPs (DDT et ses métabolites, les isomères des HCHs et la CLD) du sol vers les denrées d'origine animale dans des zones contaminées. Plusieurs CAs (DARCO, ORBO, Shubarkol) et BCs (Japanese knotweed, Oak tree, Sargassum) ont été évalués comme matériaux séquestrant (SM) et la démonstration de leur efficacité permet leur utilisation comme amendement de sol dans le cadre d'une stratégie de séquestration. De plus, des propriétés physiques et chimiques des SM, le taux d'amendement, mais aussi le temps de contact entre les contaminants d'un côté et les différents SM ou fractions de la matière organique du sol de l'autre coté se sont révélés comme facteurs d'explication des différences d'efficacité des stratégies de séquestrations par des ACs et BCs. Des stratégies de séquestration basés sur des ACs ou des BCs peuvent être particulièrement efficace dans des conditions de sols contaminés de manière modeste et de réduire très significativement la disponibilité polluants (jusqu'à 90%). Par conséquence, le transfert des polluants dans les denrées des animaux d'élevage sera notablement réduit ce qui, par conséquence, permet d'améliorer la protection des consommateurs dans des zones contaminées.
Fichier principal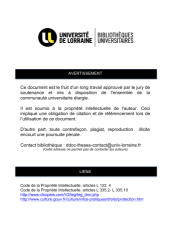 DDOC_T_2022_0126_AMUTOVA.pdf (9.18 Mo)
Télécharger le fichier
Origin : Files produced by the author(s)