Ecophysiologie de la phytoaccumulation du cadmium pour quelques populations de la plante hyperaccumulatrice Noccaea (Thlaspi) caerulescens
The use of hyperaccumulator plants is a promising biological process of cleaning up contaminated soil in trace metals. This technique is not operational due to the small size of hyperaccumulator plants, the high intraspecific diversity of hyperaccumulation. The objective of this study is to participate in reasoned choice of a Noccaea caerulescens ecotype. For this, four populations were selected. The germination test and controlled crop in sand fertilized, contaminated or not cadmium, were performed. Morphometric, ecophysiological and chemical parameters were estimated at different time scales. Concentrations of metals and nutrients were determined in the leaf biomass and the corresponding solution of the sand, which allowed us to calculate relevant bioconcentration factors taking into account both the ecophysiology of metal phytoaccumulation and metal availability. The seeds from the nonmetalliferous soil and that of the nickel-rich soil have sprouted, the resolution of this problem can be seen with the addition of gibberellic acid. From the perspective of phytoremediation of contaminated soil in metals, it is much preferred the CAL2 metalliferous population compared to the CAL1 metalliferous population for its greater Zn and Cd phytoaccumulation in leaves due to (i) its better growth, correlated with better use of water for photosynthesis for the whole culture or at the short time of gas exchanges of the aerial part of the plant, and (ii) a predominance of higher active transport of Zn or Cd. These ecophysiological approaches could be used profitably in a significant number of Noccaea caerulescens ecotypes in order to select a limited number of these rational basis with a view to breeding.
L'utilisation de plantes hyperaccumulatrices est un procédé biologique prometteur de dépollution des sols contaminés en éléments traces métalliques. Cette technique n'est cependant pas opérationnelle du fait de la petite taille des plantes hyperaccumulatrices et de la forte diversité d'hyperaccumulation intraspécifique. L'objectif de cette étude est de participer au choix raisonné d'une population du tabouret calaminaire Noccaea caerulescens pour sa performance à accumuler de grandes quantités de cadmium et de zinc dans ses feuilles. Pour cela, quatre écotypes ont été sélectionnées. Des test de germination puis des cultures contrôlées dans du sable fertilisé, contaminé ou non en cadmium, ont été effectuées. Des paramètres morphométriques, écophysiologiques et chimiques ont été estimés à différents pas de temps. Les concentrations en métaux et en éléments nutritifs ont été déterminées dans la biomasse foliaire et dans la solution du sable correspondante, ce qui nous a permis de calculer des facteurs de bioconcentration appropriés. Les graines de la population non métallicole et de celle sur sol riche en nickel n'ont pas germées, la résolution de ce problème pouvant être envisagée à l'aide d'ajout d'acide gibbérellique. Dans l'optique d'une phytoremédiation de sols contaminés en ETM, il faut nettement préférer la population métallicole CAL2 de Noccaea caerulescens à la population métallicole CAL1 pour sa bien plus grande phytoaccumulation de Zn et de Cd dans les feuilles attribuables à (i) sa meilleure croissance, corrélée à une meilleure utilisation de l'eau pour la photosynthèse et à une transpiration finale par poids de biomasse foliaire moins prononcée et (ii) une prédominance du transport actif plus élevée du Zn (sable sans Cd) ou du Cd (sable contaminé en Cd). Ces approches écophysiologiques pourraient être utilisées avec profit sur un nombre assez élevé de populations de Noccaea caerulescens afin d'en sélectionner un nombre limité sur ces bases rationnelles, dans une optique d'amélioration variétale.
Fichier principal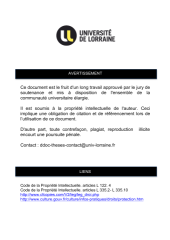 SCDSCI_M_2011_UBERSFELD_DIMITRI.pdf (1.4 Mo)
Télécharger le fichier
Origin : Files produced by the author(s)