Lean management et organisations de santé
As part of a PhD thesis in Management Sciences initiated in November 2016, we undertook a research work dedicated to managerial innovations in healthcare institutions, qualified as complex organizations. The success of any innovation is conditioned by its adoption and dissemination. The hospital establishment that carries our project is faced with the need to offer a service offering to cope with the competition. Our work focuses on the deployment of a lean approach and aims to study the managerial levers with regard to the mechanism of diffusion of this innovation within a complex organization.The literature highlights proximity management as a success factor for lean management. During a six-month immersion in a hospital located in the Grand-Duchy of Luxembourg, we will observe how to mobilize the skills of the local manager and the evolution of the creation and transfer mechanism. knowledge during successive stages of the implementation ofinnovation. The stated problem conditions the methodology used based on an intervention research. The creation of knowledge results from our interactions with the actors of the organization. The first results reveal the difficulty of mobilizing skills related to the complexity of hospitals, ie their compartmentalization, and the constraints of this function.
Dans le cadre d'une thèse de Doctorat en Sciences de Gestion initiée en novembre 2016, nous avons entrepris un travail de recherche consacré aux innovations managérialesau sein des établissements de santé, qualifiésd'organisationscomplexes. Le succès detoute innovation est conditionné par son adoption et sa diffusion. L'établissement hospitalier qui porte notre projet est confronté à la nécessité de proposer une offre de service permettant de faire face à la concurrence. Notre travail porte sur le déploiement d'une démarche leanet a pour objet d'étudier les leviers managériaux au regard du mécanismede diffusion de cette innovationau sein d'une organisation complexe. La littérature met en évidence le management de proximitécomme facteur de réussite dulean management. Au cours d'une immersion d'une duréesix mois au sein d'un hôpital situé au Grand-Duché de Luxembourg, nous allons observer les modalités de mobilisation des compétences du manager de proximité et l'évolution dumécanisme de création et de transfert des savoirs au cours des étapes successives de l'implantation de l'innovation.La problématique énoncée conditionne la méthodologie utilisée basée sur une recherche intervention. La création de connaissances résulte de nos interactions avec lesacteurs de l'organisation. Les premiers résultats laissent émerger la difficulté de mobilisation des compétences en lien avec la complexité des hôpitaux, i.e. son cloisonnement, et les contraintes de cette fonction.
Fichier principal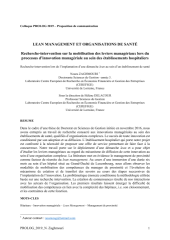 Communication PROLOG.pdf (269.42 Ko)
Télécharger le fichier
Origin : Files produced by the author(s)