Justice et magistrat.es : une GRH en miettes ? Une analyse contextualiste, comparative et pluridisciplinaire
In response to a request from the Mission Droit et Justice2, this research attempts to shed light on the transformations in the human resources management (HRM) of judges. Led by a multidisciplinary team (law, management sciences and sociology) of French and Belgian researchers, it aims to characterize the HRM model of justice and its main evolutions by proceeding to a systematic comparison of the French and Belgian cases, assisted by a Swedish counterpoint. It also seeks to evaluate and reveal on this basis their possible malfunctions, deficiencies, and incoherences. Relying on a qualitative methodology that mobilizes more than a hundred semi-directive interviews (n=122) with the organizing bodies involved in HRM but especially with the judges themselves and their heads working in French (n=13), Belgian (n=9) and Swedish (n=4) courts and first instance jurisdictions of different sizes, the report proposes a contextualist analysis (contents, contexts, processes) of HRM models by focusing on the essential actors who activate and translate them locally, those whom we refer to as 'local managers' (heads of courts). After setting the institutional and statutory scene in the French, Belgian and Swedish judiciaries, it describes the organizational configurations and HRM models and questions their correspondence, focusing more particularly on the French and Belgian cases. It analyzes principles, tools, and practices of five dimensions of HRM: recruitment, training, career, evaluation, and remuneration. It examines the central place hold by these 'local managers' court management by focusing on their environment, their roles, their organizing work, their working conditions and their power to act. The three questions the report points out – the consistency and relevance of the HRM model, the heads of courts' empowerment and capacity to act, the professionalization of human resources management in an institution that is still heavily marked by a professional governance represented by a collegial form – warn on the risks of a crumbling of HRM... of an 'HRM in pieces'.
Répondant à la commande de la Mission Droit et Justice1, cette recherche tente de mettre au jour les transformations de la gestion des ressources humaines (GRH) des magistrat·es. Conduite par une équipe pluridisciplinaire (droit, sciences de gestion et sociologie) de chercheur·euses français et belges, elle vise à caractériser le modèle de GRH de la justice et ses principales évolutions, en procédant à une comparaison systématique des cas français et belge, soutenue d'un contrepoint suédois. Elle cherche aussi à évaluer et dévoiler, sur cette base, leurs éventuels dysfonctionnements, défaillances et incohérences. À partir d'une méthodologie qualitative qui mobilise plus d'une centaine d'entretiens semi-directifs (n=122) effectués avec les instances organisatrices impliquées dans la GRH, mais surtout avec les magistrat·es eux·elles-mêmes et leurs chef·fes de juridiction, de cour et de corps travaillant dans des tribunaux judiciaires français (n=13), belges (n=9) et suédois (n=4) de taille différente, le rapport propose une analyse contextualiste (contenus, contextes, processus) des modèles de GRH en mettant la focale sur les acteur·rices essentiel·les qui les activent et les traduisent localement, ceux et celles que nous désignons comme des local managers (chef·fes de juridiction et de corps). Après avoir « planté le décor » institutionnel et statutaire des magistratures française, belge et suédoise, il décrit les configurations organisationnelles et les modèles de GRH, et questionne leur correspondance, en se concentrant plus particulièrement sur les cas français et belge. Il analyse les principes, outils et pratiques de cinq dimensions de la GRH : le recrutement, la formation, la carrière, l'évaluation et la rémunération. Il interroge la place centrale que les chef·fes de juridiction et de corps tiennent dans la gestion et le management des juridictions en s'attachant à l'examen de leur environnement, de leurs rôles, de leur travail d'organisation, de leurs conditions de travail et de leur pouvoir d'agir. Les trois questionnements sur lesquels débouche le rapport – autour de la cohérence et de la pertinence du modèle de GRH, de la responsabilisation et du pouvoir d'agir des chef·fes de juridiction, de la professionnalisation de la gestion des ressources humaines d'une institution encore fortement marquée par une gouvernance professionnelle représentée sous une forme collégiale – alertent sur les risques d'un émiettement de la GRH... d'une GRH en miettes.
Fichier principal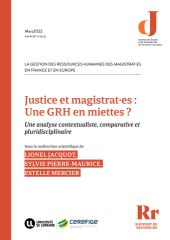 GRH_magistrat_RR_VF.pdf (6.64 Mo)
Télécharger le fichier

GRH_magistrat_SR_VF.pdf (375.6 Ko)
Télécharger le fichier
Origin : Publisher files allowed on an open archive