Cinétique de cicatrisation des traces de fission dans les cristaux d'apatite et histoire thermique de la bordure sud-est du Massif Central
Chemistry of apatite crystals which represent,s a key factor in fission-track annealing kinetics has been investigated by cathodoluminescence, electron and ion microprobes for various samples. Cathodoluminescence (CL) appeqrs as a deciding tool to reveal crystals zonations and to test grains population homogeneity. Samples with different fission-track ages populations reveal various grains color populations. CL spectrometry gives moreover semiquantitative data about Gd3+, Ce3+, Df+ and Sm3+ with a very low detection limit. Relationship between fission-track annealing kinetics and apatite crystals chemistry is not univocal. Annealing experiments display that several fadors play a major role on track stability : ClIF ratio, light rare earth elements contents or crystals substitution degree which is expressed by CaO and P20S contents. Natural annealed samples show however that these controIs vary and could be in contradiction between samples. ' A link between fission-track annealing and organic matter maturation expressed by Tmax values has been established after 3 to 30 days durati~n experiments and appears as a straight line evolving with time.Apatite fission-track thermochronology has been used on the south-eastern border of the French Massif Central. The results are, 25-209 Ma FT ages and 10.5-13.7 horizontal confined tracks lengths; the lengths show a negative skew with sorne short tracks. Thermal history reconstruction proposes: 1) an uplift from South to North which was initiated at the. end of Jurassic or beginning of Cretaceous foUowed by an intense erosion in middle Cretaceous; 2) a short delay in upper Cretaceous and 3) an important erosion from Tertiary-time which has affected mainly the border along a direction paraUel to the Cévennes fauIt.
Les facteurs contrôlant la cinétique d'effacement des traces de fission dans les cristaux d'apatite ont été étudiés à partir de cristaux d'apatite issus d'environnements géologiques variés ayant connu un recuit des traces de fission naturel ou expérimental. La chimie des cristaux a été déterminée par cathodoluminescence, microsondes électroniques et ioniques. La cathodoluminescence apparait comme une méthode particulièrement adaptée pour étudier les zonations des cristaux d'apatite et pour tester l'homogénéité d'une population de grains. Ainsi, les échantillons possédant plusieurs populations de cristaux sont mis en évidence. De plus, la spectrométrie de cl fournit des données semi-quantitatives sur les teneurs des terres rares gd 3 +, ce 3 +, tb 3 +, dy 3 + et sm 3 +. La relation entre la cinétique de cicatrisation et la chimie des cristaux n'est pas univoque. Les expériences de recuit montrent que plusieurs facteurs jouent sur la stabilité des traces ; en particulier, le rapport c1/f, la teneur en terres rares légères et le degré de substitution des cristaux. Cependant, pour les exemples de recuit naturel, les contrôles varient selon les échantillons et peuvent apparaitre contradictoires. Des expériences couplées permettent d'établir une relation entre la cicatrisation des traces de fission et la maturation de la matière organique exprimée par les valeurs du tmax. L'analyse des traces de fission dans les cristaux d'apatite a été appliquée à la bordure sud-est du massif central. Les âges sont compris entre 25 et 209 ma et des longueurs des traces confinées entre 10,5 et 13,7 m avec des histogrammes de distribution dissymétriques vers les traces courtes. L'histoire thermique basse température de la bordure se résume : 1) à un basculement du sud vers le nord qui s'est initié à la fin du jurassique et qui a entrainé le soulèvement de la région ; 2) à une période calme au crétacé supérieur et enfin 3) à une importante phase d'érosion à partir du début du tertiaire qui a affecté la bordure par un retrait d'escarpement.
Fichier principal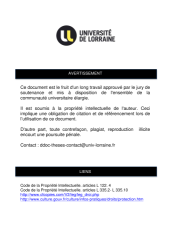 SCD_T_1999_0052_BARBARAND.pdf (75.07 Mo)
Télécharger le fichier
Origin : Files produced by the author(s)