Développement de stratégies de maintenance dans un contexte de sous-traitance partielle de production
Nowadays, the enterprises move under a hard competition. The satisfaction of the client in time becarne a difficult spot. Since that, the majority of the actual Company cal1 upon to the subcontractor in order to cover the client demand and to reduce the demand loss. In fact, it's time to expand new maintenance/production strategies by taking into account the context of subcontractor. In this memory we treat some maintenance policies integrated with production under the subcontractor constraint. The manufacturing system under consideration consists on machine Ml which produces a single product. In order to satisfy a constant demand d, the system called upon to subcontractor. The subcontractor is presented by another machine M2 which produces at a certain rate the sarne type of product as Ml. Both machines are subject to random failures. An age-limit policy is used for preventive maintenance of machine Ml. Point of view maintenance actions, the subcontractor is not controlled by us. We considered that the subcontractor imposes some unavailability periods. That's why we suppose that the failure rate of the subcontractor is constant. In this work we elaborated different strategies integrating maintenance and production. In these strategies we are taking in account the constraint of subcontractor. These strategies are optimised and its performances are compared to a simple maintenance policy SMP in which we don't taking in account the subcontractor. Finally, we classified al1 the strategies developed in this work according its performances orders compared to SMP and noted the performance constraints of theses policies.
La modélisation impose de nos jours une remise à plat des politiques de gestion industrielle. Cette remise à plat est nécessaire pour la survie des entreprises évoluant dans un contexte de concurrence exacerbé et sans limite. Les politiques de maintenance des systèmes de production n'échappent pas à ce constat et leur remise en cause est nécessaire dans ce contexte. En effet, les politiques de maintenance traditionnelle ne permettent pas d'assurer la pérennité ainsi que la croissance durable pour les entreprises d'aujourd'hui, où la réduction des coûts et des délais est devenue l'objectif principal. Pour répondre a cet objectif, les entreprises font appel souvent à la sous-traitance qui est devenue la règle et non l'exception. Ceci impose une nouvelle contrainte dans la gestion de la maintenance. Dans ce cadre, le travail présenté dans cette thèse constitue une contribution à I'éIaboration d'une politique de maintenance faisant le couplage entre la gestion de la maintenance et la gestion de la production dans un contexte de sous-traitance. Le problème posé dans cette thèse traite des politiques de maintenance intégrant l'aspect production sous la contrainte de sous-traitance. Pour un système de production considéré, différentes politiques de maintenance intégrant l'aspect production ont été élaborées pour tenir compte de la contrainte de sous-traitance. Ces politiques ont été comparées par rapport a une politique de maintenance simple SMP ne tenant pas compte de la sous-traitance. Les conditions d'existences et d'unicités de l'optimalité de ces politiques ont été prouvées analytiquement et par simulation.
Fichier principal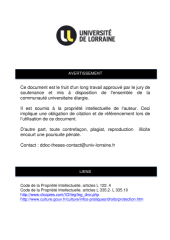 Dellagi.Sofiane.SMZ0619.pdf (1.66 Mo)
Télécharger le fichier
Origin : Files produced by the author(s)