Eléments pour une archéologie de la loi
The research intends to go back to the principale of law, from the exploitation of the various meanings of the word "law" and of its diverse uses within several discursive and pratical fields. From the uses of the term to the different concepts and theories of the law, be it in its "descriptives" and / or it "prescriptive" meaning, the path followed enables a way to ask differently the question of its possible foundation, to question the nature of universality and necessity that were conferred to it for a long time, as well as put to light the enigma of the law, to confront it to the rules et to re examine the normative dimension engraved in all human life forms.
La recherche vise à remonter au principe de la loi, à partir de l'exploitation des significations du mot "loi" et de ses divers usages dans différents champs discursifs et pratiques. Des usages terme aux différents concepts et théories de la loi, en son sens "descriptifs" comme en son sens "prescriptifs", le parcours permet de poser autrement la question de son éventuel fondement, d'interroger les caractères d'université et de nécessité qu'on lui a longtemps conférés, de mettre au jour l'énigme de la loi, de la confronter aux règles et de revenir sur la dimension normative inscrite dans les formes de vie humaine.
Fichier principal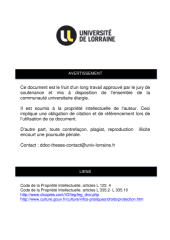 Burou.Joelle.LMZ0611.pdf (1.47 Mo)
Télécharger le fichier
Origin : Files produced by the author(s)