Hybrid wheelchairs, an added value for performance or for participation and quality of life?
Le Fauteuil Roulant Hybride : une valeur ajoutée pour la performance ou pour la participation et la qualité de vie ?
INTRODUCTION : Conçu pour améliorer la qualité de vie des personnes atteintes d'un handicap à la mobilité, le fauteuil roulant manuel est la solution technique la plus utilisée dans le monde. Son intérêt est limité par des facteurs externes comme l'apparition de comorbidités secondaires, le passage à un fauteuil électrique entraînant lui aussi des conséquences négatives. Innovations récentes, les dispositifs d'assistance électrique à la propulsion (AEP) installables sur les fauteuils roulants manuels pourraient représenter une solution. Les premiers types d'AEP nommés « roues motorisées » sont reconnus comme améliorant l'effort perçu, les paramètres mécaniques et cardiovasculaires lors de la propulsion, leur utilisation est limitée et n'a pas montré d'impact significatif à domicile. Un nouveau type de dispositif d'assistance peu étudié, dit « 3e roue centrale » pourrait entraîner une amélioration sur ces critères. MÉTHODES :Une étude randomisée en plan croisé en deux phases a été réalisée. L'objectif était d'évaluer en laboratoire l'effort perçu à la propulsion, les contraintes mécaniques et cardiovasculaires et l'habileté à manier le fauteuil. Dans un deuxième temps une évaluation à domicile de la mobilité, de la satisfaction et de la qualité de vie a été menée. En laboratoire, l'effort perçu, les contraintes mécaniques et cardiovasculaires diminuent (p<0,001) sans différence significative sur la maniabilité (p=0,12). A domicile, la mobilité, la satisfaction et la qualité de vie ne sont pas significativement modifiées (p>0,9) malgré des chiffres en faveur d'une plus grande mobilité. CONCLUSION :Ce nouveau type d'assistance améliore l'effort perçu et les paramètres cardiovasculaires et mécaniques liés à la propulsion sans variation significative de la maniabilité. Il pourrait représenter une innovation technique intéressante par rapport aux anciens dispositifs. Néanmoins, l'impact à domicile sur la mobilité et la qualité de vie mériterait plus d'investigations au regard des limites de la technologie actuelle et des outils de mesure trop peu spécifiques.
Fichier principal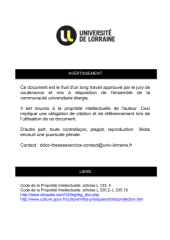 BUMED_T_2020_RAYNARD_FABIEN.pdf (4.47 Mo)
Télécharger le fichier
Origin : Files produced by the author(s)